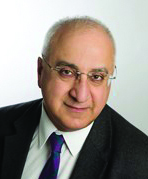 Dr Anand Saggar
Dr Anand Saggar is a Consultant in the South West Thames Regional Genetics Department at St George's Hospital Medical School and Honorary Senior Lecturer within the Medical School.
He works within a multidisciplinary team responsible for providing services for a population of approximately 2.7 million across the region.  Dr Saggar actively takes part in regional clinics both general adult and paediatric dysmorphology alongside specialist clinics for patients with hypertension, kidney diseases, tuberous sclerosis thrombophillia (economy class syndrome), and cancer family histories.  One of his major interests is inherited kidney disease for which he has an international reputation and links to his recent publication for the Oxford University Press entitled the 'Genetics of Renal Disease'.
Present Appointment
Sept 2000 to date
CONSULTANT PHYSICIAN AND CLINICAL GENETICIST,  HONORARY SENIOR LECTURER IN MEDICINE, ST GEORGE'S HOSPITAL MEDICAL SCHOOL.
Present Post
He is one of seven consultants in the South West Thames Regional Clinical Genetics department. The post is extremely busy but highly enjoyable. he has good support from his colleagues, laboratory staff and research scientists.
Management Experience
From his many and varied professional responsibilities he has developed good organisational skills and learnt to successfully balance competing demands and scarce resources.
He has considerable experience of working within inner-city multi-racial populations and aware of their differing needs.
His knowledge of several languages helps immensely in this understanding and also in communicating with patients from differing racial backgrounds.
In 2002 he has attended the Kings Fund Management Course for Clinical Directors.
Teaching and Education Experience
He has experience of teaching medical students, doctors, nurses and postgraduate MRCP and MRCOG candidates in Britain and abroad. To further improve his skills he has completed a teaching skills course for Medical Teachers.  He has advisory and editorial experience.
Examples include:
Continued assessment of grant applications
Peer review of papers for publication.
Extra Curricular Activities
Through the Arts for All committee he has significantly improved the working environment for staff and patients through artwork and organised placements for Artists in Residence.
For more information visit https://geneticspecialist.co.uk/